Posted by Theresa Marie Green on 30th Oct 2014
Teal is the new orange. Allergy Apparel™ is offering a treat!
Yes, those are teal pumpkins you have seen on your Facebook feed, your neighbors front porch or television. TheTeal Pumpkin Project was started about two years ago by Food Allergy Advocate, Becky Basalone. Teal is the color used to represent food allergy awareness. Becky and her family painted a pumpkin teal, handed out non-food items and thus the TEAL PUMPKIN PROJECT began.
Becky and FARE, Food Allergy Research & Education, teamed up this year and has encouraged families across the nation to place a teal pumpkin on their front porch, provide non-food treats, raising food allergy awareness AND helping to keep children with food allergies from being excluded from Halloween.
I have seen pictures of teal pumpkin displays in hardware stores, beautifully painted teal glitter pumpkins, bluish teal grown pumpkins, teal plastic pumpkins and more. I am so happy to see that teal is all the rage.
The power of a mom is immense. I love that the Teal Pumpkin Project started as a simple decoration signifying non-food treats at a trunk-or-treat and has grown to a nationwide campaign being seen on theToday Show.
Lets continue to grow the campaign, make the #TealPumpkinProject trend on twitter! Allergy Apparel™, a mom owned, small business offering products to keep families with food allergies safe, would love to see your Teal Pumpkin Project and is offering a treat of their own. Share a picture of your Teal Pumpkin Project on the Allergy Apparel Facebook Group Page or Twitter with hashtag #TealPumpkinProject14 and we will send you a $5 coupon. In addition, the best share will receive a $25 gift certificate! Snap and share by 11:59pm, 10/31/2014!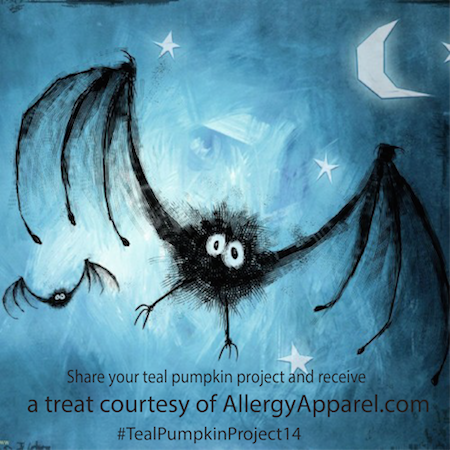 Ideas for non-food treats
Vampire fangs
Glow sticks
Tattoo's
Stickers
Spider Rings
eyeBalls
Halloween erasers or pencil toppers
Additional non-food ideas and information on The Teal Pumpkin Project