Posted by Theresa Marie Green on 22nd Oct 2020
Meet Cameron. Cameron is 16 years old and was first diagnosed with food allergies at the age of 2. He is allergic to peanuts, tree nuts and shellfish. He enjoys playing music and cooking.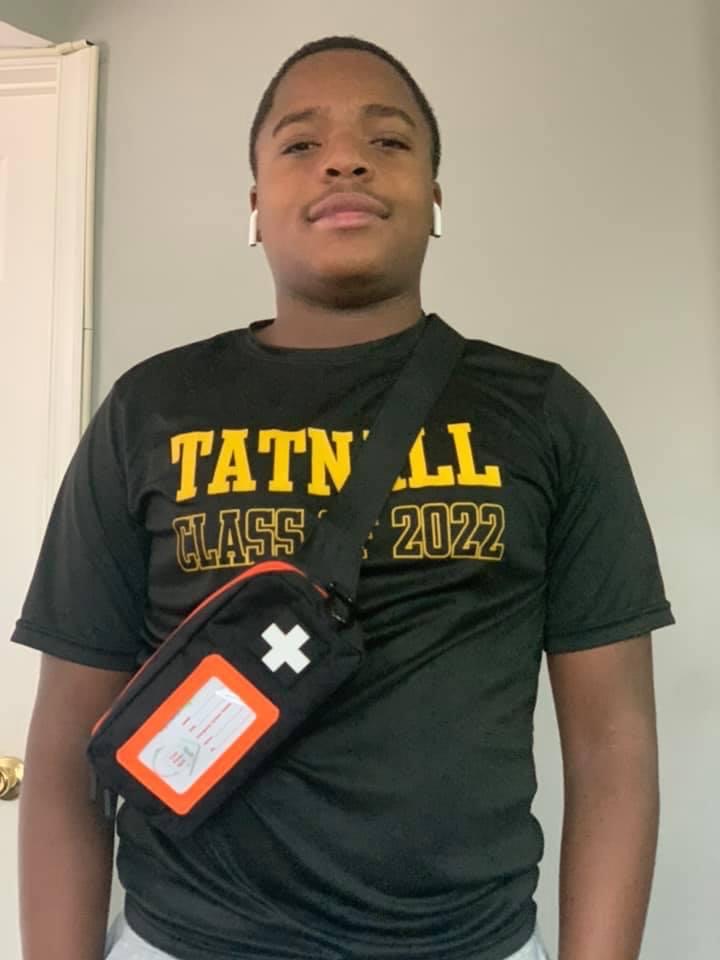 Cameron and his family have been shopping with Allergy Apparel for several years. He has used our Epi Carry-All in the past but preferred our Jumbo Allergy Protector Pouch for the size. When I was searching for someone to review the new Epipen medical waist bag by MyMedibag, he quickly came to mind. I knew from experience that Cameron prefers to carry his pouch on his waist, making him a natural choice. In addition, Cameron has been self carrying since he was 6 years old, giving him 10 years of experience and helpful feedback.
Over the past couple years fanny packs have become fashionable making epinephrine waist bags less intimidating to children, teenagers and adults. Cameron refers to his waist bag as a man purse. I LOVE IT! Although I've never personally met Cameron, when I think of him, I think of a young, poised, trendsetting young man. The future is bright with youth like Cameron in our world.
Cameron prefers a jumbo size bag, which again made him the perfect candidate to review the Medical Waist Bag by MyMediBag. Cameron gave the MyMediBag Waist Bag a thumbs up. It accommodates his Epipens, inhaler, chapstick, AirPods, mask and Invisalign case.
When I asked Cameron to review the product, I also asked him for suggested revisions. He responded by recommending a "little less bulky" buckle on the strap but he liked the strap because it allows him to wear it around his waist or across his body. Cameron liked the durability of the material but did say that it could be a bit softer.
I also asked Cameron to list a few of his favorite features. He liked the size because he could carry all his needs and wants. He is also a fan of the orange zipper, name plate border and medical cross. He liked that the medical cross made it clear that he was carrying medical supplies. The bright white medical cross is helpful on those days that you don't feel like being asked about what you're carrying. It makes it obvious that you are carrying important medications, which is also important in the case of an emergency. In addition, he liked the extra little back pocket for money and his drivers license.
Cliff Notes:
Cameron highly recommends the MyMedibag Waist Bag!
3 Favorite Features:
*Size
*Bright medical cross
*Name plate